Lodging
San Francisco Marriott Marquis (780 Mission St, San Francisco, CA 94103)
Located in SoMa, or "South of Market" in San Francisco, this hotel is within walking distance from great eateries, museums and shopping. This was one of the best hotels I've ever stayed at in terms of hospitality and service, convenient location and comfortable stay. The hotel has a $25/day destination fee which includes use at the hotel eateries. Upon check-in I received a reusable water bottle, coupon for a free item at the hotel restaurant, two cable car vouchers, and a free 2-hour bike rental. The staff was also extremely helpful when navigating the city and everyone was excited to give recommendations on places to eat. When it rained, the hotel was also giving up nice umbrellas to use in the stormy weather. While here be sure to visit The View Lounge located at the top floor of this hotel. You can grab a drink and enjoy the amazing view of the city.
Packing Tips
If you're going to San Francisco sometime in December through February, be sure to pack a cozy jacket (with a hood) and an umbrella. It rains throughout the day here but often just for a few hours. The rainy season of San Francisco is November through March, so plan accordingly and know that you've been warned.
Walking/hiking shoes. This goes without saying, but you'll probably do quite a bit of walking so make sure you have comfortable shoes.
If you're bringing an expensive camera/devices, be sure to secure it properly and don't leave any valuables in sight within your vehicle.
For almost any city you visit, it's wise to carry your wallet/money in a place that you have access to and can't be easily pickpocketed. I love a nice crossbody purse that I can keep right in front of me at all times and zips up or snaps in such a way that someone can't easily open it in passing.
Transportation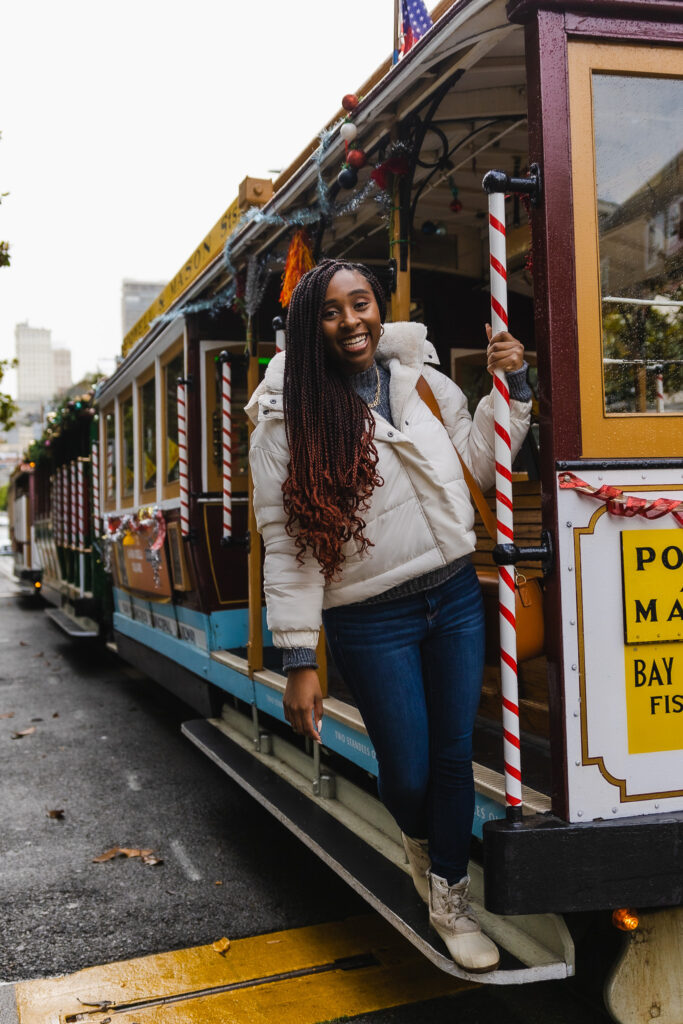 You can save money by utilizing the public transportation system (cable car, buses, etc.) instead of taking Uber/Lyft everywhere. While the city is walkable, I found it convenient to use the MUNI system due to the steep hills throughout the city. Be sure to download the app for an easier experience!
If you go to the corner of Taylor & Bay Street, you can purchase MUNI transportation passes in person. For just $24/day, you can take unlimited trips throughout the city. For a weekend trip I highly recommend getting a 3-day pass so that you can explore the city. With the pass you have a ton of options to choose from: buses, light rail Metro trains, historic streetcars and cable cars.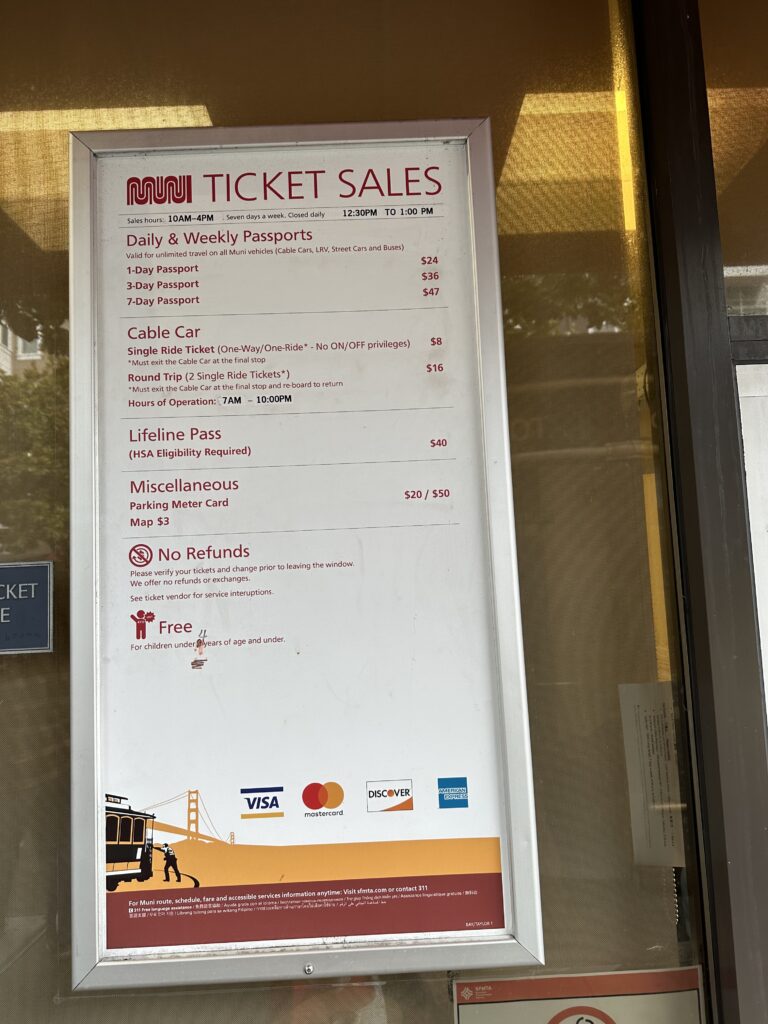 Food
Delarosa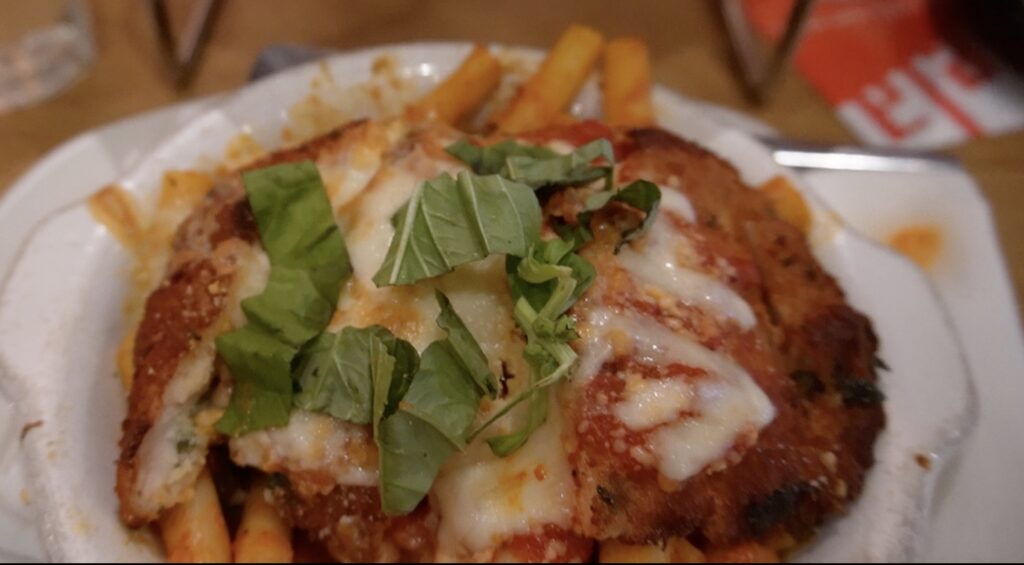 I went here for lunch and it was so good! I had the ziti chicken parmigiana and it was absolutely delicious. The chicken had a nice crust and taste with the pasta. My partner ordered a pizza and I enjoyed that as well. The crust wasn't too thick and had just the right amount of fresh cheeses, sauce and meat. I will definitely be going again for their happy hour.
Fog Harbor
I ordered the fish n' chips with a side caesar salad. The crab cakes make for a great appetizer. Overall the seafood was very fresh and the restaurant had a nice view.
La Taqueria
Instead of opting for a more touristy taco spot, we checked out a local fave in the Mission District. My burrito was extremely filling and loaded with flavor. Be sure to order an aqua fresca– I felt like I was literally drinking the real fruit.
The Melt
If I had to choose a fast food restaurant for my late-night hunger needs, I'd eat at The Melt. They have great shakes and their burgers are solid. I wasn't a huge fan of In-N-Out, so I opted for another quick eats spot that had a better variety of food options.
Local's Food Recommendations
I compiled a list of restaurants that came recommended from San Francisco Ambassadors, hotel staff and local foodies. I didn't get the chance to check these places out, but be sure to give them a try.
Farmhouse Kitchen Thai Cuisine (Thai, Cocktail Bar)
Kitchen Story (American/Asian Fusion, Brunch)
Dumpling Time (Dim Sum, Asian Fusion)
International Smoke (Barbecue, Seafood, Steakhouse)
Roma Antica (Italian, Pizza)
Marufuku Ramen (Japanese)
Golden Boy Pizza (Italian/Pizza)
WesBurger 'N' More (American, Burgers)
Lolo (Mexican, Tapas/Small Plates)
Chezchez (Cocktail Bar, Seafood)
Key Club (Wine bar)
Activities
Below is a list of fun activities to do. If you do happen to get lost or need more recommendations, be sure to speak with a San Francisco Ambassador. These ambassadors are extremely helpful and can recommend a myriad of unique things to do in the area based on your interests. They can be found throughout the city and wear a bright orange jacket.
Golden Gate Bridge
There's a variety of locations to capture that perfect photo. One of my favorites is Battery Spencer. Note that if you take an Uber/Lyft up here, it'll be pretty expensive and was a challenge to find a driver to get back to our hotel. Next time, I'd just rent a car so that I can stop for as long as I need and capture photos in various spots on the ledge. Another option would be to rent a bike and choose a different location to see the bridge that didn't involve the trek up the hill. The view is also gorgeous from Battery Spencer and great to watch the sunset.
Fisherman's Wharf
Grab a bowl of clam chowder from Boudin
Visit Musee Mécanique, which is an old fashioned arcade room. This place was also featured in The Princess Diaries.
Get some fresh seafood from one of the various restaurants on Pier39
Visit a free art gallery
Ripley's Believe it or Not
Madame Tussauds, wax museum
Ferry Building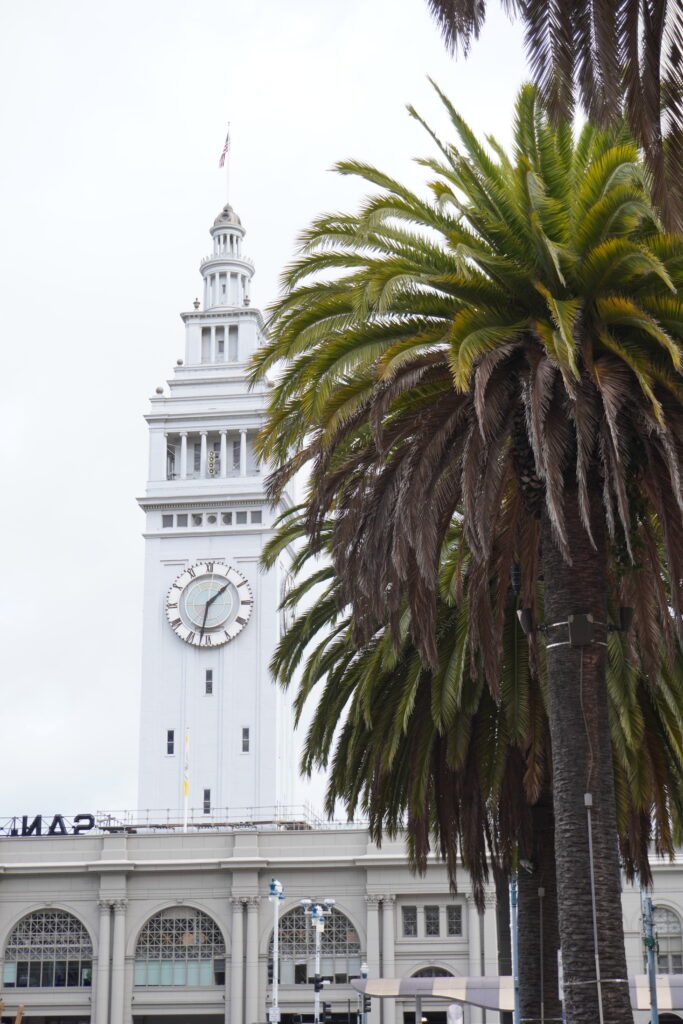 There's a myriad of desserts, pastries, food and shopping options within this marketplace. Depending on when you go you may see live performances and vendors outside the Ferry Building. I was able to catch a live jazz band and listen to some Christmas tunes.
China Town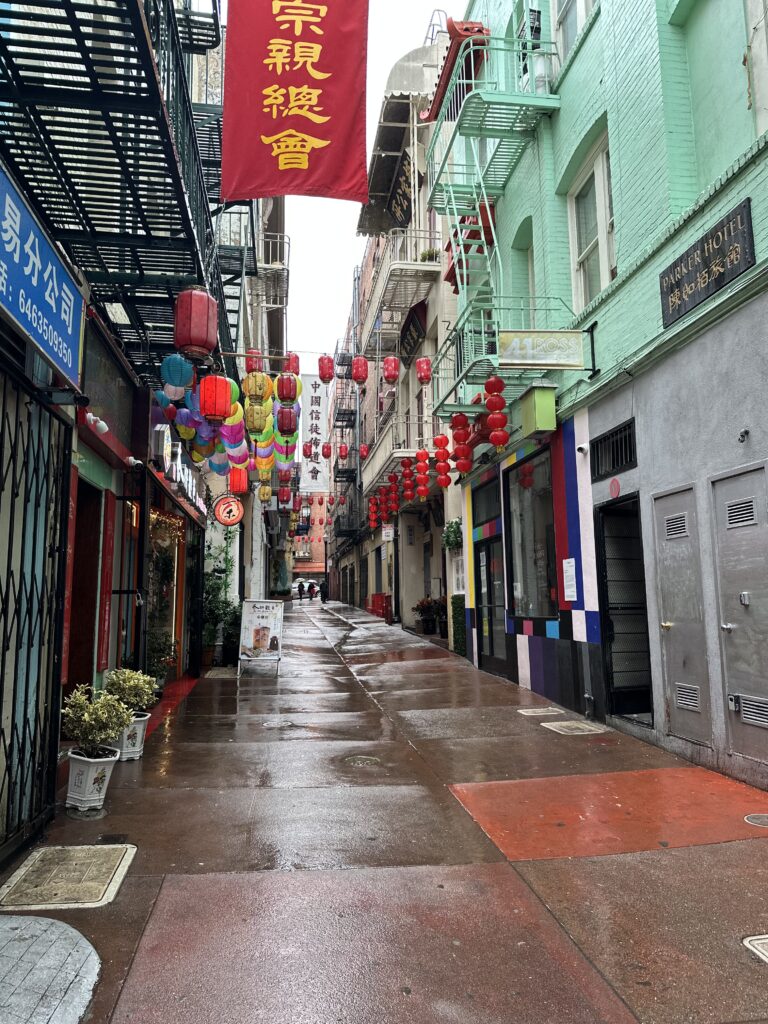 China Town is full of food options and shops to check out. I went to the renown Fortune Cookie Factory where you can write your own message to go in a fortune cookie for as little as $3. They also have an option where you can learn from the experts on how to make a fortune cookie yourself. Just be sure to bring cash as this place has a $10 minimum on credit card.
Ghirardelli Square
Grab some hot cocoa or a fudge sundae from the original Ghirardelli store. Want to bring some chocolate home to a friend/family or just want extra chocolate for the road? You can make your own to-go bag of chocolates with all your favorites.
When visiting, note that you can walk to Fisherman's Wharf from here. Additionally, there's a few spots within Ghirardelli Square that you can play arcade games, grab drinks and have a fun date-night.
Lombard Street
Known as the "crookedest street in the world", you can visit this east-west street various ways. If you want to ride down this street, you can rent a Go Car, take a Segway tour, or rent a 70s Volkswagon bus with a group of friends via the San Francisco Love Tour.
I chose to take a cable car and walk right down the steps on Lombard Street.
Ice Skating in Union Square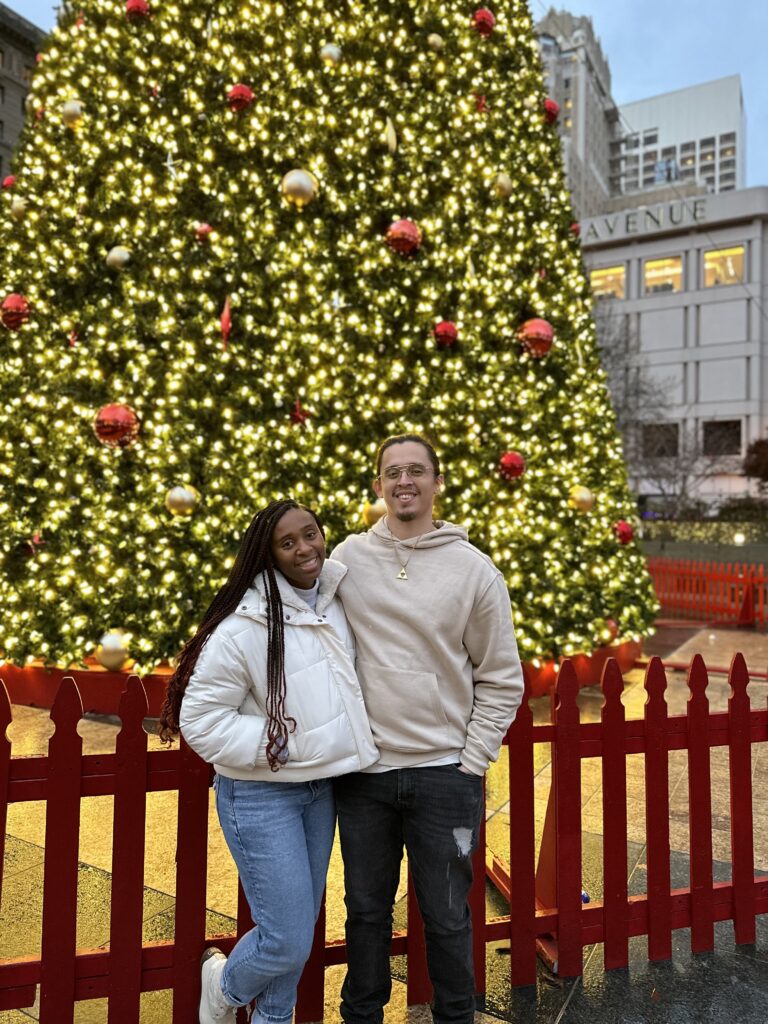 Purchase ahead online so you can secure your designated spot.
Dates: November 2, 2022 through January 16, 2023.
Admission: $20 (includes skate rental)
Museums
Museum of African Diaspora
International Art Museum of America
Exploratorium
California Academy of Sciences
Fairmont Hotel
You can visit this hotel for free and check out their Gingerbread house during the Christmas season. It smells like a baker's house when you walk in and is decorated beautifully.