My visit to Chicago, IL in May 2021 was my second time in the city. It was also my first time getting to truly explore the food scene. I spent four days there and have compiled a list of activities to do. Hope you enjoy the "Windy City"!
Lodging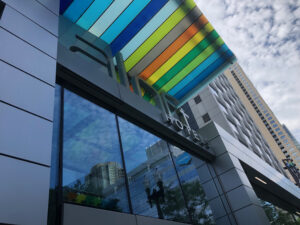 We spent three nights at Aloft Chicago Downtown River North Hotel. We bundled our flights and hotel via Expedia and was able to spend about $100/night to be in a great location that was within about a 20 minute walk from Millenium Park. The staff was really nice and the rooms were quaint, clean and cozy. So if you're looking for a place to stay, Aloft is a good option.
Activities
Architecture Boat Tour
The tour guide really makes this experience what it is–AWESOME! I was surprised to find myself laughing while I learned the history behind architecture in the city. Any other day, I would've shrugged at this idea. However, it was interesting and very enjoyable. There's also a shorter and cheaper version of this boat tour that does not go throughout the city, but gives you views of the skyline. I personally wanted to ride throughout the city and see the buildings closer up.
Bike riding along Lake Michigan
Using the Divvy app, we purchased a day pass and rode electric bikes all along Lake Michigan. Their "beach" is actually quite beautiful and I love the view of the city next to the water. I grew up near the Outer Banks so this was a different beach than I'm used to, but it was nice for a large city like Chicago.
Riverwalk Mimosa Fest
My friend found this cool event by searching through Eventbrite. We were able to try over 10 different mimosa flavors as we sat outside by the water. This location is also right near Grant Park, so it's an easy walk. Be sure to check Eventbrite as there are tons of dope booze cruises, festivals and fun events throughout the year.
Navy Pier
In addition to boarding the boat tours here, there's also a Ferris wheel, restaurants, and shops along this pier. Be sure to grab yourself a drink from Margaritaville–the frozen mango margarita SLAPPED! We were even able to catch an orchestra performance as well from young students at the Navy Pier Beer Garden. And given the time we traveled here, they had fireworks on the pier every evening during this month.
Millenium Park
This is a classic tourist spot where you can take the picture of "The bean" along with other landmarks. Since we went during the pandemic, they weren't allowing people to congregate close to structure. However, it should be back open now.
Food
Three Dots and a Dash
This is a speak-easy tiki bar that serves great drinks packed with spice and rum. The chill ambiance was perfect for a first date or gathering with a small group of friends.
Egg Harbor Cafe
Unfortunately when we came here for breakfast the restaurant had really slow service, despite not being at full capacity. As a result, it was reflected in the quality of our food. I think on a good day, this meal would've been superb. However, the cold French toast and over-cooked eggs made this place nothing to rave about.
Yolk
Their pancakes were delicious and delightfully fluffy with crisp edges. I was so full and wish I had a second stomach just to finish everything I ordered. If the weather is nice, I recommend sitting outside as well.
Giordano's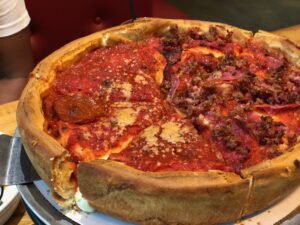 This is a chain restaurant in Chicago and a typical tourist spot for pizza. Having said that, it was good and cheesy, but I hope to try out some of the local favorites listed HERE.
Doc B's
Food ordered: Chimichurri wings, loaded baked potato, steak, chicken skewers.
Let me tell you that these wings were seasoned just right and had a nice grilled flavor. And the baked potato with the freshly shredded cheddar cheese was truly LOADED and hit the spot. My friends also raved about how tender the steak and chicken was. Overall, 10/10 recommend!
Hub51
When arriving in Chicago, this was our first meal. We needed something quick and tasty. I ordered the steak tacos and the best part was the juicy, well-seasoned steak. They could've left everything else off the plate to be honest because it didn't add much. My friends enjoyed the sushi and chicken sandwich they ordered though.
Beatrix
This restaurant was connected right to our hotel so it was only right to stop here right before we caught our flights back home. The breakfast didn't have a wide selection, but it was pretty good. It's a good spot if you're looking for a lighter breakfast.