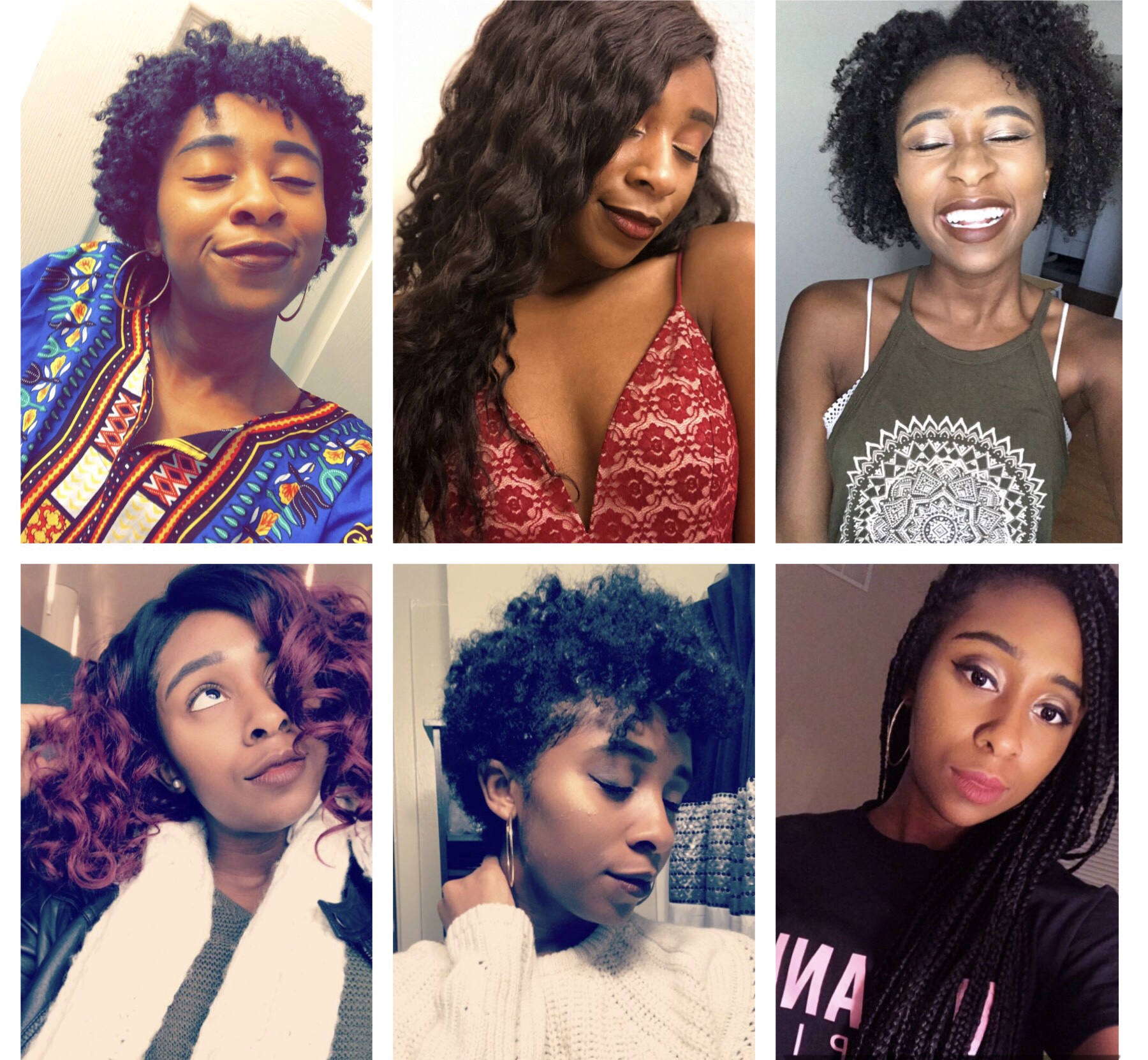 Growing up, I hated my hair. I hated the kinks, the coils, and knots that formed inevitably. I hated the way it would defy gravity and turn into a ball of frizz on a warm summer day, especially after being straightened. Ultimately, this hatred for my hair was due to the hatred I had for my blackness and my culture.
This is my hair story.

In elementary school I was bullied because of my hair. I was often mocked for having greasy hair and was ashamed of the hairstyles my mom would select. I still remember my mom parting my hair into three sections and putting big twists in them with a barrette on the ends. I would take my hair out during the school day and apply water to it like the other girls would do only to get fussed at later when my mom got home. Special thanks to Twitter for confirming that I am not the only black girl to experience getting in trouble for ruining the hairstyle their mom selected.
The only black girl in the majority of my classes, I decided to get a perm in middle school in order to fit in with all of the of the long, blond-haired girls in my homeroom. Let's PAUSE right here.
There is no need to fit in when I was born to stand out.
There is no need to ever apply strong, toxic chemicals to my scalp for the sake of being more Eurocentric. Yes, I understand that some people perm their child's hair to make it easier to manage. However, my reasons were rooted in a lot of self-hatred and I refuse to perm the hair of my child.
Similar to many black girls, I developed a "my hair used to be long" story that I would tell anytime someone asks about the length of my hair. If it wasn't for the hot comb and frequent relaxers that I received TWICE a month, my hair would honestly be longer. And that's THAT on that!
It wasn't until college that I grew an appreciation for my hair and the versatility of it. I went natural on accident, at first, because I became too busy with classes to get a perm. Plus, I only wanted my hairdresser back at home to give me a perm. Once 6 months had went by with no creamy-crack, I decided to transition with my college best friend. We went shopping for a "natural hair starter kit" and were product junkies before either of us could put all of our natural hair into a bun. When the length of my natural hair grew out long enough to be grasped for a bun, I decided to chop all of the permed ends off myself. Despite the backlash I received from some of my family members about cutting my hair, I felt liberated. However, I am sure that most of the fuss was because I decided to cut my hair myself instead of going to a stylist. There was a time when I would be extremely hurt and near tears when my hairdresser would give me a "trim" that cut off 2+ inches of my hair. There is something freeing about having the scissors in your hand and taking charge of the change that is about to incur. There is something powerful about finally being ok with having short hair if that meant your hair was healthier.
Now, I am proud to rock my twist-outs, bantu knots, and afro. I have learned to love my hair, even when I try a new style and it doesn't come out the way it did for @naptural85 or @NaturallyTemi on YouTube. Often times, I wear wigs and extensions and braids and try fun colors with my hair–because why not? The constant changes are a form of self-expression. The beautiful moment I realized the uniqueness of my hair and that it does not define who I am, I no longer feared the opinions of others. I do not fear adding that extra layer of coconut oil to give my hair some shine and moisture. I do not fear getting my hair trimmed; health is more important than length. I do not fear shaving the back of my head for an undercut; hair grows back. I do not fear telling a zealous stranger "No, you can NOT touch my hair". And most importantly, I do not fear the thick, dark, and curly strands that God blessed me with. Looking back, I am happy to say that I never truly went natural, but I returned; natural is where I began.
With love and light,
Kai